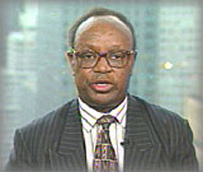 Jokonya: Zimbabwe and Africa's Son
                                                             By Obi Egbuna Jr
As the revolutionary nation of Zimbabwe and its patriotic citizens 13 million strong confronting political and economic hardships that stem from being under of US-EU sanctions are saluted by the entire Africa world, especially those who have arrived at the conclusion these challenges come with the territory of defending your country's sovereignty . It is from amongst this special batch of Zimbabweans in particular that everyone else will be reminded that June 24
th
2016 makes it exactly 10 years since national hero and former Minister of Information Media and Broadcasting Services(then called Information and Publicity) Ambassador Tichaona Joseph Benjamin Jokonya made his transition to the ancestors. When a nation with a revolutionary background and pedigree loses a Comrade of Minister and Ambassador Jokonya's stature, it takes those amongst us who never lose touch with the African fighting spirit to not only evoke his name, but to continue the work he left behind regardless of the challenges and adversity we face in the process.
Because Minister and Ambassador Jokonya was scheduled to address heads of parastatals that fell under his jurisdiction and portfolio on the day he exited the physical world, it certainly would not be a stretch or a creative play on words to say our comrade died on the battlefield, especially for those who remember that whenever Comrade Jokonya defended Zimbabwe on the world stage he reminded everyone listening information was the very 1st line of defense.
When future generations of Zimbabweans in particular and Africans as a whole study Minister and Ambassador Jokonya's robust body of work, it would come as no surprise if they don't walk away having reached the conclusion, that this ideological spin on information could arguably be his most significant contribution during Zimbabwe's third chimurenga.
This slant by Minister and Ambassador Jokonya not only puts Zimbabwe's illustrious history in proper context and perspective, but also provides much needed clarity to the current situation at ground level.
Throughout the new millennium if the US-EU Imperialist media apparatus has shown, they cannot resist the temptation to put a pro regime change spin on what they deem any key particular development taking place in Zimbabwe, in April Newsweek magazine's correspondent based in London Mr. Conor Gaffey penned two op-eds Mugabe to meet War Veterans over leadership row and Zimbabwe's Mugabe tells war vets: I'm not Dead Yet. 
While both stories suggested that the Zimbabwe Liberation War Veterans Association was getting politically restless, in the second piece Mr. Gaffey had the temerity to state "The meeting saw veterans pledge their unity towards Mugabe while also making certain demands". The photograph used for the story were war veterans cheering wildly while waving their flags proudly, if the adage a picture is worth a 1,000 words has true meaning, it would be rather premature for US-EU imperialism to function from the understanding that the war veterans are ready to assist them with their racist and reactionary regime change agenda. What President Mugabe and ZANU-PF showed all of Africa was dealing with a minute contingent of War Veterans who have a false sense of entitlement because they engaged in protracted armed struggle, is a continuation of the efforts to merge the armies of ZANU and ZAPU after the 2nd Chimurenga concluded, which puts the entire nation on notice that only a people's army can overcome US-EU sanctions.  
If a magazine known all over the planet like Newsweek that was founded 5 years before Minister and Ambassador Jokonya came into the world can resist the temptation not to grossly exaggerate about the meeting between President Mugabe and the War Veterans Association, what excuse do Zimbabwean journalists whose analysis and writing is mainly suited to articulate the sentiments of 10 Downing Street in London and 1600 Pennsylvania Avenue in Washington respectively possibly have?
It was the groundwork of Minister and Ambassador Jokonya which ignited a form of guerilla journalism that encouraged Zimbabwean scribes not to be intimidated by the goliath like US-EU media apparatus, which prepared a loyal unit that has more than stood its ground against the likes of Newsweek, Time US News and World Report, The Economist and Foreign Policy Magazine, this is why neo-colonialist reporters who disgrace their nation are losing ground because US-EU Imperialism has started to view their stories journalistically in the manner they look at former Prime Minister of Zimbabwe Morgan Tsvangirai politically. We remember Minister and Ambassador Jokonya telling so-called African Americans the majority of Zimbabwean traitors will die when our enemies make them expendable.
Since Zimbabwe will always be remembered in the annals of modern African history for soundly defeating the 2nd most powerful colonialist and imperialist army to be assembled on our beloved mother continent, it is only fitting that such a nation's information Minister chose to send such a powerful message, during a period in history when the former colonizer invader and plunderer chose to impose racist and unlawful sanctions because President Mugabe and ZANU-PF chose to reclaim their sacred land immediately after militarily defending their neighbors in the DRC who were definitely in need.
The Government and People of Zimbabwe remember Minister and Ambassador Jokonya for presenting Zimbabwe's case on both the Land Reclamation program and Operation Sovereign Legitimacy, because Comrade Jokonya was Zimbabwe's Permanent Representative to the UN this work was the catalyst that ignited solidarity and support efforts for President Mugabe and ZANU-PF, this was a key component in showing both the Party and Government that outreach had indeed extended beyond the genuine efforts of the December 12th Movement in New York City.
Another exceptional maneuver by Minister and Ambassador Jokonya was to let the world know former UN Secretary General Kofi Annan was more than welcome to visit Zimbabwe in 2005, to walk the streets of Harare and observe the purpose of Operation Muravastvina, of course Mr. Annan did not make the trip but one year later said there was no crisis in Zimbabwe but an unresolved bi-lateral dispute between a sovereign nation and its former colonial master.
 Every Ambassador who has served in the US either at the UN Mission in New York or the Embassy in Washington DC have benefited immensely from this network put together under the tenure of Minister and Ambassador Jokonya and Ambassador and Dr. Simbi Mubako the former Zimbabwean Ambassador to the United States. Due of the rigorous nature and program President Mugabe takes on whenever he visits the UN for the General Assembly, it has been 12 years since he has sat down face to face with so called African American organizers who are leading the fight to lift US-EU sanctions on Zimbabwe.
 Minister and Ambassador Jokonya like so many others from Kwame Ture to Steve Biko is a product of the Student Movement that embraced both responsibility and danger which was evident when he assumed leadership of ZANU's student movement in exile. The reason that Minister and Ambassador Jokonya had such a trusting and special relationship with President Mugabe was because they both knew the value of the classroom, a characteristic that all exceptional teaches gain as time goes on, this shows all of us that Ambassador and Minister Jokonya walked the path of other political standouts in the SADC region PAC founder and leader Mangaliso Robert Sobukwe and Zambia's 1st President Kenneth Kaunda who were also teachers par excellence.
Minister and Ambassador Jokonya's time in London in which he was Secretary of ZANU's branch from 1973 to 1977, provided him an opportunity to trace the footsteps that many a Pan African Giant had taken on the very soil that represents colonialism and imperialism's architectural framework, names like Nkrumah, Padmore, CLR James, Kenyatta, DuBois, Robeson, and Colonel Muammar Qadaffi whose Pan Africanist fervor was intensified due to the time the spent on British colonialist and imperialist soil.
The People and Diplomats who worked in Ethiopia at the AU and Geneva are well aware that Minister and Ambassador Jokonya helped lay the foundation for Zimbabwe's Diplomatic Agenda, The ZTA knows Ambassador and Minister Jokonya changed the tourism strategy targeting friendly nations as opposed to hostile nations. As we overindulge in capitalist talk of investment let us remember a comrade who understood how you are viewed and perceived determines whether you should be approached in the 1st place. We thank Comrade Jokonya's wife and children for allowing us to spread and celebrate his name. 
Obi Egbuna Jr is the US Correspondent to the Herald and External Relations Officer to ZICUFA(Zimbabwe Cuba Friendship Association) his email is obiegbuna15@gmail.com