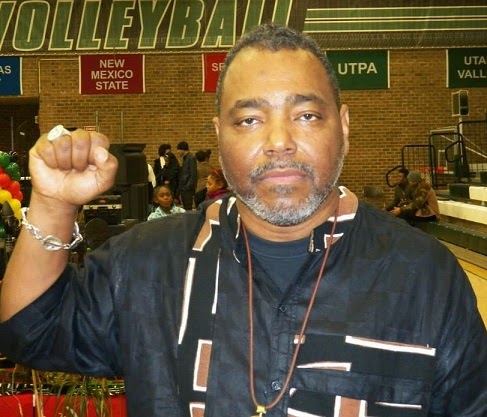 Remembering a Lost Treasure
                                                     (A tribute to Comrade Kwesi Harris) 
                                                                              By Obi Egbuna, Jr. 
Because politicians and members of the Military Industrial Intelligence Police Complex along with numerous social commentators have declared Chicago the gun and gang violence capital of the United States, losing a humble servant in African people's liberation struggle the caliber of Kwesi Harris is extremely painful to accept.
From the looks of things if Brother Kwesi's home going at Chicago State University is any indicator of how this warm and dedicated soldier will be remembered by his Comrades students and friends, than the powerful words of legendary singer/composer Billy Preston's song Lord Help Me popularized by another son of Africa by way of Chicago Donny Hathaway on his 3rd album Extensions of a man "Let my life be a sign of the coming generation" guarantees that Brother Kwesi's track record of tireless and selfless work will not only be celebrated but continued.
The approach that Brother Kwesi took when struggling on the frontline for African people validated the assertion of Osagyefo Kwame Nkrumah who reminded us that it is not the goal one achieves but the depths they come from to achieve these goals.
Another crucial aspect of the African personality that Brother Kwesi recognized which in turn made his work on our behalf rather exemplary, was he realized that Culture was the bedrock and foundation of our very being, if we fail to make our political expression synonymous with what we share culturally, we kill the very essence of the African fighting spirit which has guided our genuine resistance on the battlefield.
The communities of Students and youth, women, teachers, artists etc that Brother Kwesi served loyally and faithfully attest to how whenever he poured libation at the beginning of countless events that he played a role in organizing, everyone in attendance not only left completely reinvigorated, but will never again in the space and time they occupy this planet show any blatant disregard for the countless drops of blood Daughters and Sons of Africa have shed struggling for our liberation and human dignity.
Those amongst our ranks that are extremely critical of the Pan Helenic Council ie Greek Letter Sororities and Fraternities and Sororities, too often forget the rather extensive and illustrious list of freedom fighters, who at some point in their life span were member of these organizations. It is fair to say mentioning all of them will be more tedious than going through the mug shots of Africans who have arrested and terrorized by racist police departments all over the US, or Africans who like Brother Kwesi have been laid to rest in countless cemeteries courtesy of NCDS (non- communicable diseases)like cancer  being one of the most deadly, which are projected to end the lives of 57 million people by 2038.
If some of us simply cannot resist the temptation of dragging sororities and fraternities through the mud, at least have the decency and integrity to acknowledge that Osagyefo Kwame Nkrumah, Nnamdi Azikwe, Frederick Douglass, WEB DuBois, George Washington Carver, Paul Robeson, A Phillip Randolph, Dr. Martin Luther King Jr, Adam Clayton Powell Jr, Nannie Helen Burroughs, Shirley Graham DuBois, Daisy Bates, Fannie Lou Hamer, Mary Church Terrell, Dr. Dorothy Height are amongst the ranks of these organizations. Some of these iconic servants in struggle are honorary while others joined as students and gained valuable organizational skills, they used during their participation in the people's struggle, it is glaringly obvious that it was the dimension of service and responsibility that attracted Brother Kwesi to become a member of Kappa Alpha Psi. We are confident that the current and future generations of Kappas learn from Brother Kwesi struggling for our people is not an option but our historical obligation.
Brother Kwesi's work was also uplifting because it defies the narrative rooted in compromise and capitulation that you struggle in your late teens and early 20's, start a family and become a god fearing law abiding citizen, what for so-called African Americans translates to pay your bills and taxes timely, practice Judeo Christianity which justifies the raping of African peoples human and material resources, and faithfully vote Democrat because this is where our salvation lies.
When the notorious terrorist and warmonger J. Edgar Hoover who was the 1st Director of the Federal Bureau of Investigation and architect of the Counter Intelligence Program, arrived at the conclusion that HBCUS and PBIS were developing into to training grounds for freedom fighters. This lead to many Presidents and instructors in areas of study aimed at developing our critical thinking being selected with intense scrutiny and caution, which also applied to areas like the Divisions of Student Affairs and cultural centers focusing on our Sisters and Brothers.
This in turn resulted in a generation becoming vulnerable and ultimately consumed by a reactionary political paradigm, where we ran into the arms of the Military and Corporate machine that preserves the cycle of racism, exploitation and poverty that is the legacy of US Capitalism and Imperialism.
As we seek to break US capitalism and Imperialism's monstrous grip, Comrades like Brother Kwesi who showed us how to penetrate these circles by using a harmonious blend of diplomacy and militancy without compromising his integrity any step of the way, provides an invaluable lesson future servants and fighters do not have the luxury of ignoring. What Brother Kwesi became was an alternative resource for students who were distrustful of professors and administrators, that attempted to convince their abandoning our people had its perks and rewards.       
We cannot to ignore the countless organizations that Brother Kwesi faithfully served and who shaped his outlook and perspective, The Bobby E Wright Comprehensive Health Center, Khepera & Associates Networking Services, Black Star Project,Y2 Kwanzaa Organization, Cobbala Production, Teaching and Educating Men of Black Origin Program, Citywide Coalition against Tobacco & Alcohol Billboards, National African American Tobacco Prevention Network and lastly the African American Male Resource Center at Chicago State University.
   In Loving memory of the Comrade called home to the ancestors, the African Fighting Spirit that defined his life and work burns eternally.
Obi Egbuna Jr is the US Correspondent to the Herald (Zimbabwe's National Newspaper) and the External Relations Officer of ZICUFA(Zimbabwe-Cuba Friendship Association). He is also the Co-Executive Director of the Mass Emphasis Children's History and Theater Company his email is obiegbuna15@gmail.com