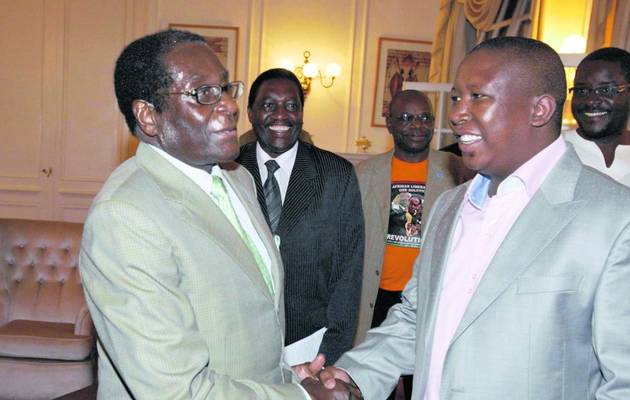 An Open Letter to Julius Malema
By Obi Egbuna, Jr.
 Brother Malema
                            I hope this letter finds you friends family along with the leadership and ranking file of EFF in good health and spirits. The purpose of this correspondence is to address your recent attack on President Mugabe, which based on the strategic target, guaranteed front page headlines that you so clamor and enjoy. The fact you called for President Mugabe to step down from power, highlighting his age as your justification, is blatantly disrespectful. This shows that both in your tenure in ANC and since the creation of EFF (which if the truth be told is nothing but an ANC splinter group), on its best day exposes you know very little about President Mugabe and even less about ZANU-PF.
Brother Malema if you have studied how President Mugabe deals with critics and detractors who regurgitate imperialist propaganda when they are seeking 11 minutes of fame, it should be crystal clear to you and the ANC splinter group you take so much pride in representing, that one of President Mugabe's strongest attributes is he has always been impervious to opportunist rhetoric regardless of how pompous and verbose the individual that decides to let his name party or country roll off the tip of their tongue.
Brother Malema based on relevance and your quest for importance and recognition, this might be an extremely difficult pill to swallow but nevertheless must be shared, if President Mugabe never responded to attacks and criticism from Madiba Nelson Mandela and former US President Barack Obama the chances of hearing him mention your name are slim to none.
Brother Malema somewhere along the line since the creation of your ANC splinter group, you have forgotten the dominant sentiment of the entire SADC region, which is that Zimbabwe can resolve its own problems without external interference, the only renegades besides yourself who appear not to have heeded the call are Botswana's President Ian Khama, your homeboy Archbishop Desmond Tutu, whose impersonation as a man of god overshadows your masquerade as an African revolutionary.
Brother Malema the African world is grateful that you felt compelled to distinguish the ANC splinter group you lead from both factions of MDC, which was reminiscent of what Professor Horace Campbell, author of Reclaiming Zimbabwe: The Exhaustion of the Patriarchal Model of Liberation, when he used to scream criticizing President Mugabe doesn't make you pro- western. We later discovered Professor Campbell was bosom buddies with MDC co-founder Sekai Holland who was MDC's Secretary for International Affairs and Secretary for Policy and Research. Many of us still suspect Professor Campbell was using Mr. Ibbo Mandaza of the Southern African Political Economic Series, either as a ghostwriter or his primary source of information when attacking President Mugabe and ZANU-PF for defending the sovereignty of the DRC. Brother Malema for the record tweeting support for Pastor Evan Mawarire and the This Flag movement is no different than supporting either faction of MDC.
Brother Malema because you are 35 years of age which is considered the born free generation in Zimbabwe—-this explains why you reduce President Mugabe and ZANU-PF to the 3rd Chimurenga, and the historic land reclamation program, which reveals that you either devalue the significance of the 2nd Chimurenga or are simply an innocent victim of a false narrative of the SADC history. This reduces Southern Africa's plight to the biography of Madiba Nelson Mandela individually and the ANC collectively.
Brother Malema when you referred to ZANU-PF as cowards for refusing to demand that President Mugabe steps down, the members of the ANC splinter group you represent may have reached the conclusion that stapling your tongue, could be the best strategy before you completely destroy the African revolutionary masquerade that is at the heart and core of the Malema/EFF brand.
Brother Malema President Mugabe and ZANU-PF as you know defeated the 2nd most powerful colonial army ever assembled in Africa, went back to Mozambique to help Comrade Samora Machel and FRELIMO defeat RENAMO on the battlefield, and prevented Mobutu's stooges with the helping hand of former US Secretary of State Madeline Albright and former US National Security Adviser and US Ambassador to the UN ,Susan Rice, from resuming control of the DRC. Before you created your ANC splinter group, we were entertained by your Kill the Boer dance that forced ANC's hand during the internal power struggle. The fact of the matter is while you Brother Malema have never killed a Boer, the comrades in ZANU-PF you called cowards. It is they, not you, who are responsible for sending countless invaders to the cemetery. We know South Africa has its own versions of People magazine and GQ magazine, perhaps they can start their own version of Dancing with the Stars and have you and a partner of your choice perform that dance. This way you will get in better physical condition and just maybe you can live to be 92 years young like President Mugabe.
Brother Malema you have built your entire political career stepping on your Comrade's toes, or at least you rock them to sleep thinking they have your loyalty, before you stab them in the back. The main person subjected to your opportunism and shenanigans was former South African President Thabo Mbeki, who risked his life by standing with President Mugabe and ZANU-PF at a very crucial time in history, when he brokered the GPA/Inclusive Government agreement with ZANU-PF and both factions of MDC. It appears you and your ANC splinter group lack the will to fight to lift US-EU sanctions on Zimbabwe, the way Comrade Mbeki rallied behind President Mugabe and Zimbabwe. I remember being in the newsroom of the Herald a few years back, watching you and your ANC splinter group storm Parliament  while speaking with our political editor Tichaona Zindoga. My exact words were, "it was Mbeki yesterday Zuma today it could be President Mugabe and ZANU-PF tomorrow." My young Comrade felt I was being a tad bit clairvoyant but your political theatrics and quest for the finer things in life, makes it possible for even Ray Charles and Stevie Wonder to see right through you.
Brother Malema the most laughable part of your remarks is when you said your ANC splinter group is following in President Mugabe and ZANU-PF's footsteps. In the United States there is a holiday called Halloween where children dress up like their favorite cartoon characters and movie stars. Brother Malema do you believe that putting on a red beret makes you Thomas Sankara? It was a good idea to use a revolutionary figure who waged struggle in a country many miles away, because you would get more laughs than Trevor Noah if you try to convince South Africans, you are the extension of Sobukwe, Mothopeng, Lembede, Sibeko, Biko and the most authentic warriors South Africa has produced.
Brother Malema the late Pan African Revolutionary Kwame Ture when reflecting on his time as the Honorary Prime Minister of the Black Panther Party said in order to be eligible for membership, one simply had to get a black beret, black leather jacket, a gun and recite the 10 point program and just like that you were officially a member. The point was there was no program for political education, and with that being said I want to conclude with posing a crucial question to you and your ANC splinter group to answer…"What is more beneficial to the SADC region in particular and Africa as a whole Julius Malema stepping down as leader of the EFF or President Mugabe stepping down as President of Zimbabwe and leader of the Africa Revolution?" The honest answer may really hurt your feelings. 
Obi Egbuna Jr is the US Correspondent to the Herald and External Relations of ZICUFA(Zimbabwe Cuba Friendship Association) his email is obiegbuna15@gmail.com