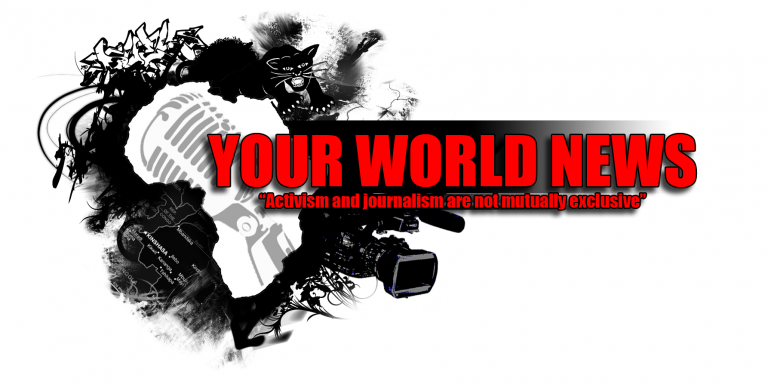 Welcome to Your World News. We are a community based progressive media collective geared towards empowering, giving voice to and connecting communities who have historically been oppressed and marginalized. We focus on news and events the US corporate media systematically ignores as they cater to their corporate interests. We are uninfluenced by corporations or mainstream American political parties (Democrats/Republicans). We are influenced by a strong desire to give back to the communities we serve. We don't believe that Journalism and Activism are mutually exclusive. We are activists telling the stories that need to be told in order to empower and educate the marginalized masses!
WATCH YOUR WORLD NEWS TELEVISION BY CLICKING THIS LINK HERE
Your World News is a Community Based Media Collective that was started in 2009 with the intent to report news that the corporate media often ignores as well as to deconstruct critical issues and stories that need to be told—from a progressive narrative. We at Your World News are activists, first and foremost, who have decided to take our pens, cameras and microphones to the streets—where the real battles for social change begin and end. We refuse to allow regressive and methodic mainstream thought confine our political expression merely to rigged ballot boxes. We don't hide behind our keyboards, cameras or microphones—-we make every effort we can to rally, mobilize and organize with the communities we represent. Your World News is merely a critical weapon we use within the vital information battle front. The corporate media is an effective tool used by those who wish to continue to keep power concentrated within the hands of a few. Your World News will continue to fight the good fight with those who wish to see progressive change and on behalf of those historically marginalized and oppressed!
With writers and correspondents throughout the globe; Your World News is consistently expanding and evolving. We are always seeking STRONG writers who are progressive (radical) social activists. If you are interested in writing or serving as a correspondent for Your World News please email us at: yourworldnews2010@gmail.com.
Your World News Staff
Founder and Executive Director
Solomon Comissiong
West Coast Field Correspondent & Co-Host of Critical Insight
Tim Baldauf-Lenschen
African/Black Economic Empowerment Editor
Troy Moten
Correspondent 
Obi Egbuna, Jr.